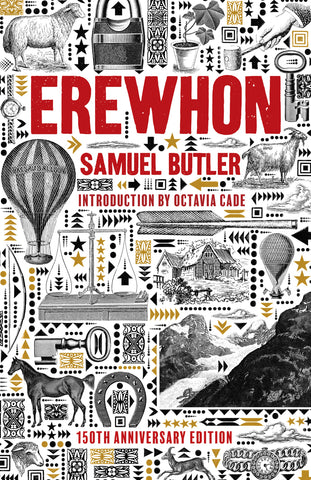 Erewhon
A utopian classic with a rich legacy–influencing authors from Huxley to Herbert and beyond–Erewhon satirizes Victorian society with biting insight still relevant today.

When Higgs, a young traveler, stumbles upon the beautiful land of Erewhon, he soon discovers that its seemingly ideal culture is founded upon bizarre, unsettling beliefs. Crime is a sickness, while sickness is a crime; the greatest scholarly achievement is unreason, and all machines have been eliminated for fear of artificial intelligence. In a society that suppresses originality, the traveler and his values are a threat. Torn between escape and Arowhena, the woman he has grown to love, Higgs must contend with Erewhon's strange ways–and with the challenges they pose to his own beliefs.  

Engaging with the work of Charles Darwin and inspired by the author's time in colonial New Zealand, Erewhon is a bright, irreverent, and enduring text about technology, religion, crime, and institutional rigidity. This new edition of the 1872 classic arrives in honor of its 150th anniversary, featuring a brilliant introduction contextualizing the book from one of New Zealand's great academic thinkers in science fiction, Dr. Octavia Cade.