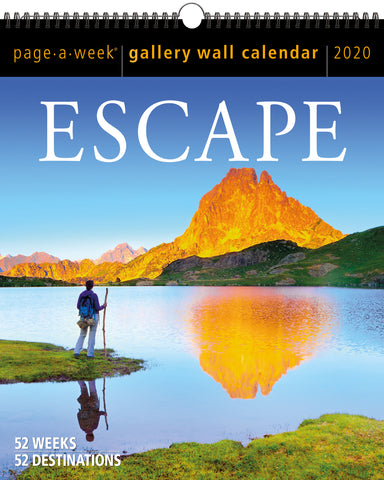 Escape Page-A-Week Gallery Wall Calendar 2020
Escape into nature!

Escape Page-A-Week® Gallery Wall Calendar offers 52 photographs of epic destinations around the world that inject splendor and thrill into every week. Each scene is like a trek to the edge, pushing the boundary on how we might see and experience nature's myriad spectacles. One week there's a seemingly endless path of soaring Redwoods. Another, a dramatic slope up Iceland's misty Westfjords—and another: the Canadian Rockies' breathtaking, crystal blue waters, and a canoer in the distance, taking in the beauty. Whether overlooking the peak of a cliff, or surrounded by the pure rural quiet of a forest, each image exemplifies the peaceful, restorative joy of taking time away from it all, of getting in touch with one's surroundings, of being an island unto oneself. Perfect for outdoor enthusiasts and everyday environmentalists, every image is like experiencing a breath of fresh air.

Page-a-Week Gallery Wall Calendars feature art book design, heavy-coated paper stock, and rich, full-color photographs. 52 breathtaking, poster-style images are like works of art for your wall, complemented by a practical weekly grid.