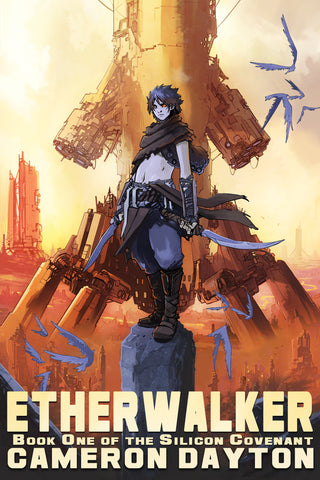 Etherwalker
The world is broken.

The powerful machines that once ruled over land and sky are gone, leaving humanity in a state of primitive fear. Only legends of the Schism remain.

Enoch has never been frightened by these tales. He sees things differently than the other youth in Rewn's Fork, and that makes him an outcast. Where others see crops, weather, and flocks of sheep, Enoch sees numbers and patterns.

When he accidentally awakens a powerful Artificial Intelligence, he discovers the truth behind his peculiarity-Enoch is an Etherwalker, the last in a long line of powerful technopaths who can control machines with their minds.

Without knowing it, he has triggered the ancient Hunt, and now ancient monsters are hungry for his blood and bent on his extinction. They know he has seen the truth behind the broken world, and, if he survives, he may have the power to shatter it... or to make it whole again.