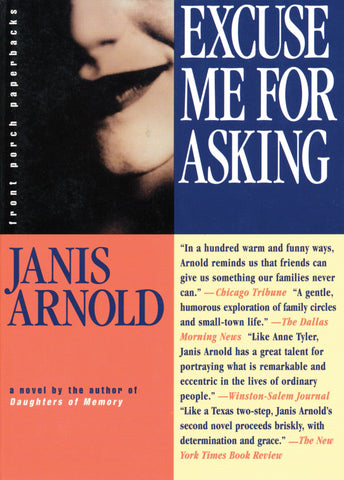 Excuse Me for Asking
"In a hundred warm and funny ways Arnold reminds us that friends can give us something our families never can."
—The Chicago Tribune

Janis Arnold's good-humored second novel is about big dreams, sweet dreams, and nightmares.

Julia Salwell seems to have it all—money, a father and brother who are crazy about her, and a rich boyfriend who's co-captain of the football team in tiny Cypress Springs, Texas. But there's something wrong, something eating at Julia, something that keeps waking her up at night, screaming in the dark. When Robin Tilton meets Julia in college, it seems they've got nothing in common. Where Julia is flashy and dramatic, Robin is quiet and insecure. Where Julia breezes through, Robin has to bear down. Where Julia's rich parents will always bail her out of trouble, Robin is a scholarship student who doesn't even know who her parents are. But when Julia and Robin are thrown together as freshman-year roommates, it's just the beginning . . . of a beautiful friendship.

As we follow two friends across more than two decades and watch their dreams collide with the realities of careers, husbands, families, and aging parents, we're drawn into a warm and affirming story, a prickly testimony to the power of true friendship.