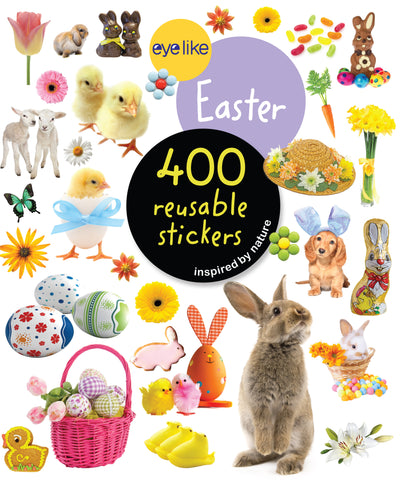 Eyelike Stickers: Easter
Perfect for the holiday where sitting down to decorate is a beloved ritual comes a new addition to the bestselling series with over 1 million copies in print. Packed with 400 full-color Easter- and spring-themed stickers, EyeLike Stickers: Easter belongs in every Easter basket and every crafter's stash. The high-quality, photographic images are amazingly lifelike in color and detail. The durable, reusable stickers are designed to be stuck on and peeled off over and over again without losing adhesive.

Fuzzy chicks and bouncy bunnies. Jelly beans, springtime flowers, pretty painted eggs, and wobbly-legged lambs. Use them to decorate notebooks, cards, scrapbooks, crafts, party invitations or create a lively scene on the book's inside covers—which double as a glossy illustrated background. Then change it up when the mood strikes.