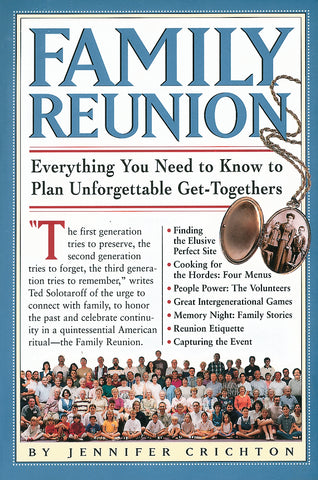 Family Reunion
Today more than ever, American families are scattered to the wind. Yet perhaps for this very reason, families have also been getting together for reunions in unprecedented numbers.

Planning a reunion is a pleasurable but complicated undertaking that requires foresight and planning, and here to assist is Family Reuinion, an indispensable guide and sourcebook that shows how to organize and conduct four basic reunions: a Backyard Barbecue for siblings and cousins, a Homecoming Weekend, an Extended Family Reunion, and a Family Camp, which typically lasts a week and gathers up to 100 participants.

Accessible and packed with ideas and information, the book shows how to create a workable timetable (18 months before a large reunion is not too soon to start planning), organize a committee, and set up a fund for expenses (and to help less-well-off members attend). There are chapters on location, including little-known church camps and family resorts; on scheduling activities for kids and adults, day and evening; on genealogy; on recording the event; and even on etiquette, including how to handle black sheep, in-laws, and stepchildren. With case studies of real-life reunions and duotone photographs throughout, this is the book that helps us connect.