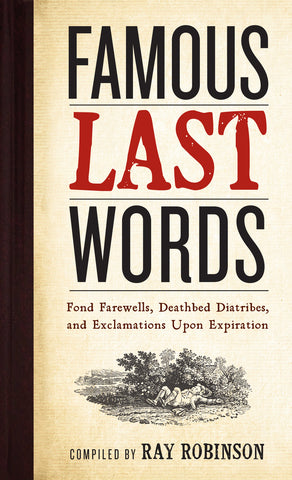 Famous Last Words, Fond Farewells, Deathbed Diatribes, and Exclamations Upon Expiration
"Don't let it end like this. Tell them I said something."—Pancho Villa

"Drink to me!"—Pablo Picasso

A collection of notable last recorded words of the dying, Famous Last Words is bursting with life, hope, wisdom, and often laughter. Here are writers, philosophers, athletes, kings and queens, movie stars, politicians, and more, in all sorts of moods and states of preparedness. Some merely want to say goodbye to loved ones, others want to create a legacy.

Ultimately, every one of these parting statements is a reflection of the person behind it. Each is accompanied by a mini-biography of the speaker, including the context of death, from the golf course ("That was a great game of golf, fellers."—Bing Crosby) to a favorite armchair ("Go on, get out. Last words are for fools who haven't said enough."—Karl Marx).