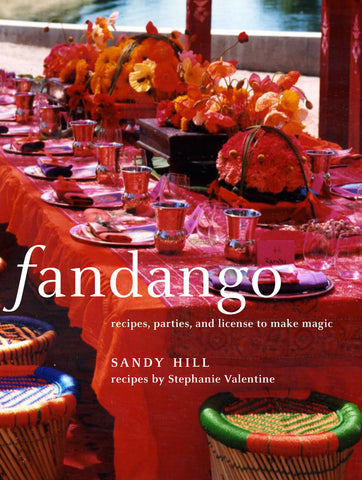 Fandango
Sandy Hill is rich in imagination, style, taste, and experience. She has climbed the highest peak on every continent. She has kayaked the Arctic and ridden across the Masai Mara in Kenya on horseback. She owns a vineyard in California, and she throws parties that are the talk of whatever town she's in.

Memorable entertaining, for her, is not about the easy this and store-bought that—if it's simple, why bother? It's about inspiration and preparation, about making every occasion as grand as you would if it were the last thing you'd ever do. To that end, she engages her full imagination, rolls up her sleeves, asks her guests to be co-conspirators, and creates gutsy, one-of-a-kind events of all sizes and shapes at her ranch in wine country.

The results range from the intimate to the ultimate: rowboat suppers for two and July Fourth blowouts for hundreds; Mexican luncheons to celebrate the harvest and feasts honoring Hindu gods; treasure hunts; poetry readings, grape picking and wine tastings; bachelor parties and wedding picnics; and bona fide holidays such as Father's Day, Halloween, Thanksgiving, and Christmas as you've probably never imagined they could be. These are parties at which the energy flows both ways, from prepared and inspired hostess to willing and active guest, where people sing or cook or ride for their supper, then talk about it for years to come.

But for all these parties' grand gestures, they're not about precious perfection. The decorations and menus are real and re-creatable. The recipes, 125 in all, run the gamut from new twists on traditional American and Mexican food to rustic Italian, Spanish, Indian, and Scottish, and each is paired with a specific wine, beer, or cocktail. And while you may never have an elephant on hand to give your guests rides at a party, there's nothing to stop you from equally singular flights of imagination, from guests in costume to colorful table linens or the sheer beauty of a natural backdrop. So go on, dream a grand party, with Fandango as your guide.