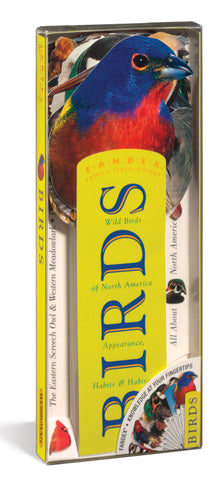 Fandex Family Field Guides: Birds
The world of birds at your fingertips: a Fandex field guide of full-color images and facts, in a die-cut card deck.
The ultimate family reference for birders and backyard nature lovers. These 50 individually die-cut cards feature full-color illustrations, plus hundreds of intriguing facts, stories, statistics, and trivia about North American birds. The images are large, the details sharp, the colors bright. Each die-cut profile is unmistakable - it's like having the real bird in your own hand.
There are instantly accessible details about each bird's habitat, range, diet, nest, eggs and conservation status, as well as appearance, habitats and even song pattern, Plus "pigeon milk" and the Indigo Bunting's ability to navigate by starlight, how the Killdeer fakes injury to distract predators, and Benjamin Franklin's surprising nominee for America's national bird.
- 50 individually die-cut cards
- Full color throughout
- Knowledge at your fingertips
- For the whole family