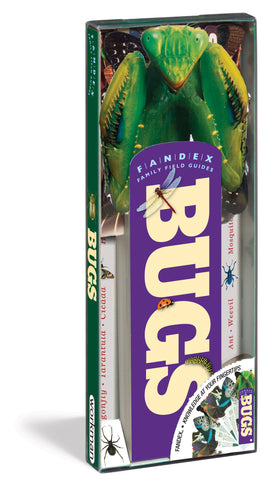 Fandex Family Field Guides: Bugs
A perfect marriage: bugs, kids, and Fandex. Meet South America's Hercules Beetle, as big as a dollar bill and the strongest creature on earth, able to lift 850 times its body weight. (That's like a 100-pound person lifting four school buses!) The Black Widow Spider, whose females, contrary to reputation, rarely eat their mates. And the wonderfully bizarre Walking Stick, sometimes called "Frankenstick" for its ability to reattach its own severed head. Plus Treehoppers and Leafhoppers, centipedes and millipedes, stealthy Assassin Bugs, and twelve thousand varieties of ant.

Bringing the world's most fascinating creepy-crawlies—insects, spiders, scorpions, and other Arthropoda—to your fingertips, Bugs combines fascinating information about 48 creatures with die-cut, full-color photographs that reveal their subjects' shimmery wings, iridescent shells, vivid hues, and bold shapes in astonishing detail. Every card includes a detailed description, habitat and scientific name, lore, field notes on lifecycle, identifiers, and size, as well as sidebars covering topics such as the fly's ability to walk upside-down and how bees make honey.