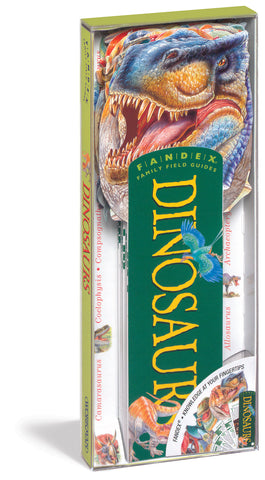 Fandex Family Field Guides: Dinosaurs
Meet
Stegosaurus
and
Stegoceras
(the head banger). An airborne giant,
Quetzalcoatlus
, with a wingspan the size of a WWII fighter. The meat-eaters:
T.Rex, Giganotosaurus
, and
Allosaurus
, who strode eight feet with every step—try out-running that! There are fish—like ichthyosaurs, including
Excalibosaurus
, named after King Arthur's legendary sword because of its long snout. The swift and deadly raptors. Sauropods that could strip the tops of trees, and the agile little
Compsognathus
, the size of a turkey. Each dinosaur is illustrated in amazingly life-like detail, and accompanied by information on size, diet, and lifestyle. The deck also includes key paleontologists, fossil-finding methods, and a glossary.
50 DIE-CUT CARDS
FULL COLOR THROUGHOUT
KNOWLEDGE AT YOUR FINGERTIPS
FOR THE WHOLE FAMILY