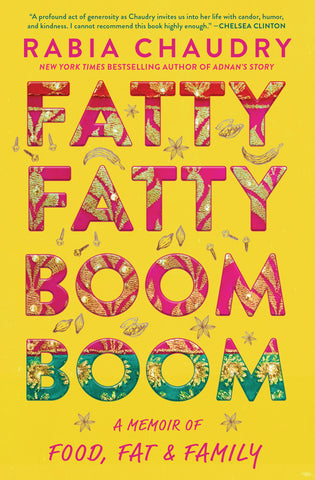 Fatty Fatty Boom Boom
"A delicious and mouthwatering book about food and family, the complicated love for both, and how that shapes us into who we are . . . I absolutely loved it!" —Valerie Bertinelli

"My entire life I have been less fat and more fat, but never not fat," writes Rabia Chaudry, who was raised with a lot of love. And that love looked like food. Delicious Pakistani dishes—fresh roti, chaat, pakoras, and shorba—and also Pizza Hut, Dairy Queen, and an abundance of American processed foods, as her family discovered its adopted country through its (fast) food. In Fatty Fatty Boom Boom, Chaudry chronicles the dozens of times she tried and failed to achieve what she was told was her ideal weight. The truth is, she always loved food too much to hold a grudge against it.

This memoir is at once an ode to Pakistani cuisine, including Chaudry's favorite recipes; a love letter to her Muslim family, both here and in Lahore; and a courageously honest portrait of a woman making peace with a body that gets the job done but refuses to meet the expectations of others.