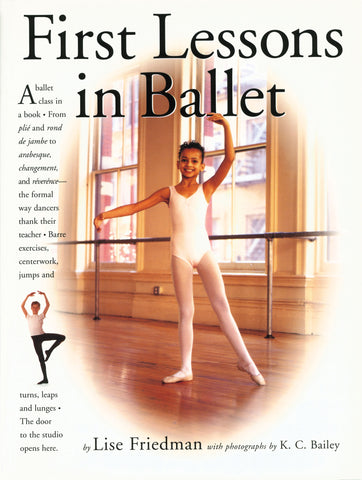 First Lessons in Ballet
Introducing a ballet class in a book. Created by Lise Friedman, a passionate ballerina as a little girl who grew up to dance with the Merce Cunningham Dance Company, and photographed by K.C. Bailey, whose dance photography is part of the Lincoln Center Dance Collection, First Lessons in Ballet is an intimate and innovative approach that takes the reader right into the studio and teaches basic steps and positions.

Each spread works as a lesson. On the left, in a full-length, silhouetted photograph with callouts, a young ballerina named Rebecca demonstrates each move. On the right, a group of younger kids who might be the reader's fellow students practice the moves, while brief text, written in the voice of a master teacher, explains exactly what to do. Covered are the five basic positions of ballet, followed by a series of exercises just as they would be performed in class--barre exercises, such as plie and rond de jambe; centerwork exercises, including arabesque and pas de bourree; and such jumps and turns as changement, pique, and emboite. Class finishes with reverence--a formal way dancers thank their teacher--and the book ends with a brief discussion of the next steps in ballet--pointe work and partnering.