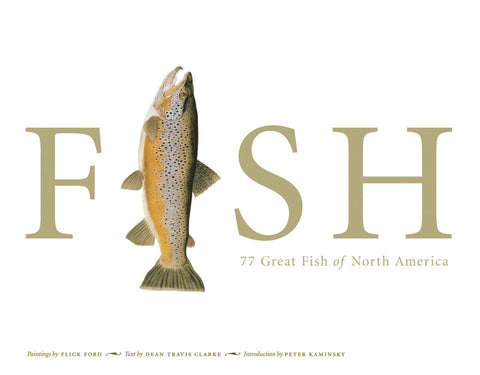 FISH: 77 Great Fish of North America
Fish is a stunning celebration of this continent's great fish, mostly game fish, with a sprinkling of fun (pumpkin seed sunfish), history (shad), and culinary delights (bluefish). These detailed, never-before-published watercolor portraits, with text by the master of sport fishing, Dean Clarke, combine to make an upscale guide for the naturalist, an aid to the angler, a tool for the educator and conservationist, and an enjoyable read for everyone. It's part field guide and part angler's soul, but most of all a feast for the eyes.

Every fish has a story, and this book presents 77 incredible tales of hunting, studying, catching, and eating fish. Each portrait is accompanied by tips on bait and habitat. Also included are essays on the state of our oceans, and species conservation efforts. Artist Flick Ford's watercolors of individual specimens—many of which he caught—are rendered in a unique technique that captures the perfection of the fish at the moment it was pulled from the water. Everyone who fishes longs to land "the big one," and here it is—the best catch of the season for sport-fishermen and weekend anglers alike.