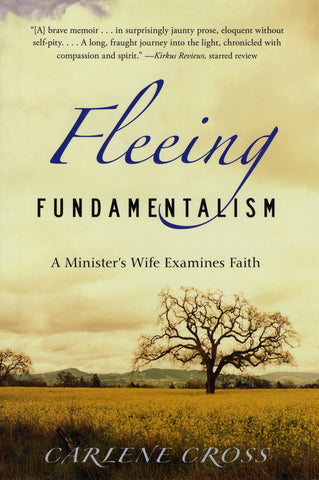 Fleeing Fundamentalism
At a time when the distance between church and state is narrowing and the teaching of intelligent design is being proposed for our classrooms, it is startling and provocative to hear the reasoned voice of a dissident from inside the church. For Carlene Cross, arriving at this shift in belief was a long and torturous journey.

In Fleeing Fundamentalism, Cross looks back at the life that led her to marry a charismatic young man who appeared destined for greatness as a minister within the fundamentalist church. Their marriage, which began with great hope and promise, started to crumble when she realized that her husband had fallen victim to the same demons that had plagued his youth. When efforts to hold their family together failed, she left the church and the marriage, despite the condemnation of the congregation and the anger of many she had considered friends. Once outside, she realized that the secular world was not the seething cauldron of corruption and sin she had believed, and found herself questioning the underpinnings of the fundamentalist faith.

Here is an eloquent and compelling story of faith lost and regained. Certain to be controversial, it is also a brave and hopeful plea for greater tolerance and understanding.