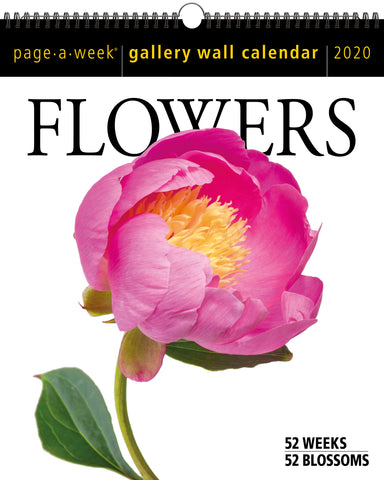 Flowers Page-A-Week Gallery Wall Calendar 2020
The classiest, most elegant of bouquets for gardeners and flower lovers.

A vibrantly colored, richly detailed tribute to the soft, luminous blooms whose beauty—sometimes delicate, sometimes rugged—captivates gardeners and aesthetes alike. Flowers Page-A-Week Gallery Wall Calendar instantly brightens any space you hang it in, with 52 exquisite portraits of plush pink peonies, crisp white roses, deep crimson amaryllis, sculptural, intertwined callas, and more. They shine and burst forth in vases and close-ups, revealing a mesmerizing variety of color, curvature, and texture. You can almost smell their tantalizing fragrances.
 
Page-a-Week® Gallery Wall Calendars feature art book design, heavy-coated paper stock, and rich, full-color photographs. 52 breathtaking, poster-style images are like works of art for your wall, complemented by a practical weekly grid.