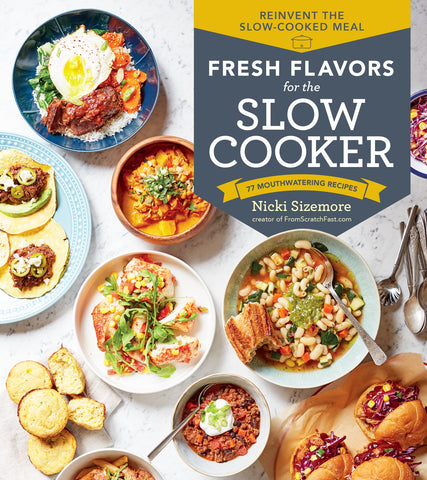 Fresh Flavors for the Slow Cooker
Countless home cooks remain loyal users of their slow cookers for preparing satisfying, low-maintenance meals. But the tried-and-true slow cooker recipe repertoire is about to change, with author Nicki Sizemore's fresh spin on slow-cooked meals. Fresh Flavors for the Slow Cooker is filled with slow-simmered main dishes, plus 35 recipes for sauces and sides, that replace canned ingredients with fresh vegetables, boost flavor with aromatic herbs and spices, and feature a tantalizing array of global tastes in dishes that span the menu. Overnight Pumpkin–Brown Rice Pudding with crunchy pecans is a wholesome, hands-off breakfast treat, Thai Curried Chicken & Rice Noodles gets a spicy kick from curry broth, and Shredded Beef Mole Tacos are accented with the sweet heat of Quick Pickled Jalapeños. Whether you're feeding a family or entertaining a crowd, each recipe highlights prep work that can be knocked out days in advance, making serving meals worthy of every occasion easy and delicious.

This publication conforms to the EPUB Accessibility specification at WCAG 2.0 Level AA.