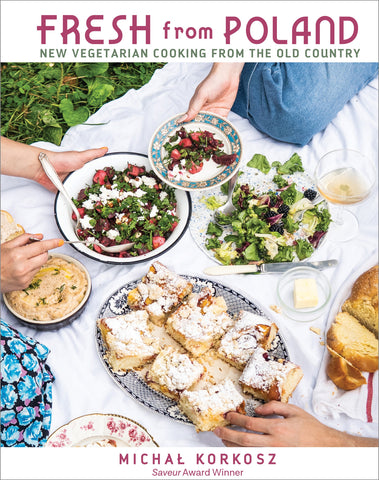 Fresh from Poland
An Indie Bestseller
A Booklist Top 10 Cookbook of 2020
A San Francisco Chronicle Best Cookbook of 2020A one-of-a-kind vegetarian Polish cookbook, featuring over 80 creative, modern, and comforting recipes that showcase the abundant vegetable-forward recipes of Poland
"If your knowledge of Polish food stops at kielbasas and pierogi, definitely check out this exciting vegetarian cookbook written and shot by Polish food blogger Michał Korkosz."
—San Francisco Chronicle
In
Fresh from Poland
,
Saveur
award winner Michał Korkosz celebrates recipes from his mother and grandmother—with modern, personal touches and gorgeous photos that capture his passion for cooking. Vegetables are his stars, but Michał doesn't shy away from butter, flour, and sugar; the ingredients that make food—and life—more
rozkoszny
(delightful)! The result? Over eighty comforting dishes for every occasion.
Indulgent breakfasts: Brown Butter Scrambled Eggs; Apple Fritters; Buckwheat Blini with Sour Cream and Pickled Red Onion
Hearty vegetarian mains: Barley Risotto with Asparagus, Cider, and Goat Cheese; Potato Fritters with Rosemary and Horseradish Sauce; Stuffed Tomatoes with Millet, Cinnamon, and Almonds
Breathtaking baked goods: Sourdough Rye Bread; Sweet Blueberry Buns with Streusel; Honey Cake with Prunes and Sour Cream
Pierogi of all kinds: From savory Spinach, Goat Cheese, and Salted Almonds to sweet Plums and Cinnamon-Honey Butter
These satisfying recipes will make you feel right at home—wherever you're from!