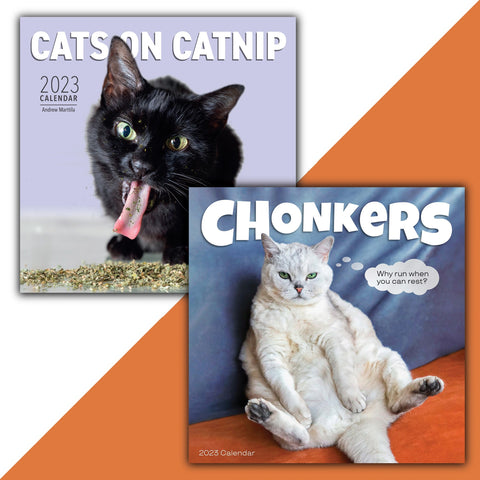 Funny Cats Set
Website exclusive. 2- calendar set.

A year of cats enjoying life to the fullest.

The Cats on Catnip Wall Calendar, based on photographer Andrew Marttila's hilarious book and Instagram account, features a year of kitties living high and loving it. The full-color photographs showcase a funny, goofy, and altogether unexpected side of the normally dignified cats who grace our lives.
What, you may ask, is a "chonker"? it's a cat that's a tad on the chunky side, to put it politely. A cat that truly enjoys its leisure, its overly indulgent pet parents, and, most of all, a full dinner bowl (perhaps multiple times a day). The Chonkers Wall Calendar is a year of irresistibly and adorably plus-size goofy cats, like the chunky gray fellow becoming one with a purple couch or the fluffy long-haired diva splayed out on the carpet without a care in the world.