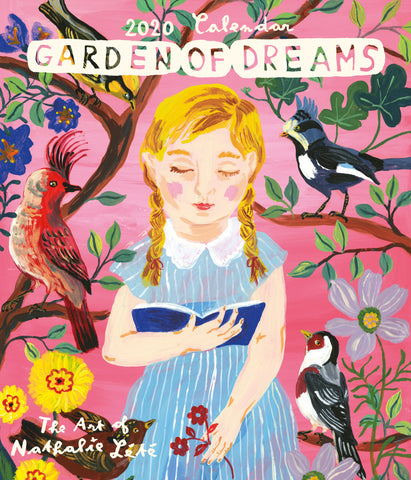 Garden of Dreams Wall Calendar 2020
The elegant, dreamlike designs of Natalie Lété turn a wall calendar into an object of desire.

Drawing inspiration from folk art, vintage toys, and engravings of flowers and animals, Parisian artist Natalie Lété's work is colorful and poetic, sometimes mysterious, always charming. Lété's work is so distinctive and widely appealing that she has become a global brand, having garnered a cultlike following for her unique pop- and folk-art aesthetic. Her pieces have graced everything from dishes to postcards to clothing from Anthropologie, Chronicle, and Issey Miyake—and now it's on bold display in a calendar of rich illustrations that are like a magical trip down the rabbit hole. It's the best of Lété in twelve iconic, poster-style images: a girl in a pinafore reading among blossoming flowers, a valley of tall mushrooms to get lost in, swooping bluebirds, a smartly dressed hare in a Breton shirt. The vibrancy of her paint and the texture of her brushstroke are irrepressibly rich, adding distinct elegance to any wall.