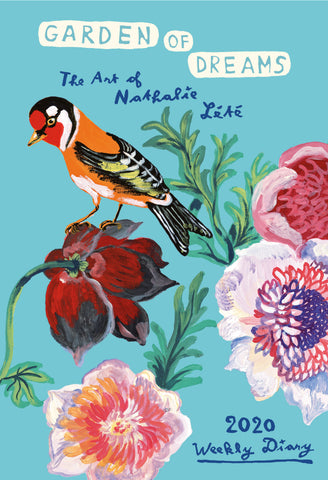 Garden of Dreams Weekly Diary 2020
52 luminous weeks of discovery in a weekly diary from artist Nathalie Lété.

Nathalie Lété's paintings invite us to look again and again, to search for new details, to spot surprising pockets of beauty and humor. Here, Lété has curated 52 of her best-loved works into an exquisitely designed and produced bound weekly engagement diary, with collage spreads, elegant endpapers, and vibrantly colorful art every week. From paintings of mysterious castles, vintage dolls, and regal owls, to playful monkeys dangling from cherry tree branches, the mesmerizing creatures and motifs that populate each image transport us to a rich dreamscape. And as practical as it is sophisticated, this diary also includes ample room for writing in appointments, lists, and notes. Packaged in a handsome full-color gift box.