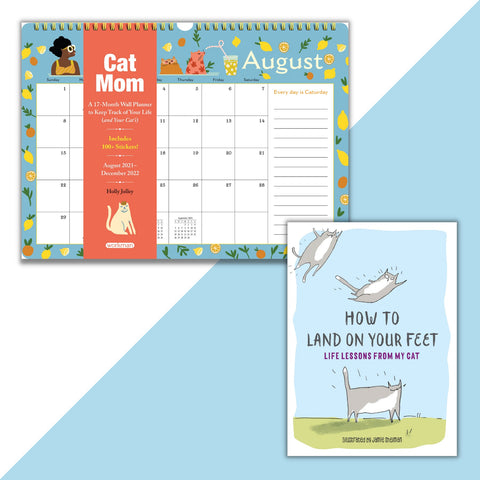 Gifts for the Cat Mom
Purr-fect gifts for any proud cat mom!
Cat Mom 17-Month Wall Calendar 2022
The calendar for those who believe life is better with a cat, 
Cat Mom
 combines practical, planner-like pages and Holly Jolley's whimsical and endearing illustrations, which capture the relationship between felines and their human moms. Plenty of room for writing in daily appointments, and each month includes a place for jotting down notes, lists, and random thoughts—about cats or otherwise. Includes 150 colorful stickers with reminders (
buy cat food
) and more cute cats, of course.  
How to Land on Your Feet: Life Lessons from My Cat
Why spend one life worrying . . . when you could spend nine lives napping? Take it from artist Jamie Shelman's wry and furry felines: Cats work reasonable hours (zero), love wisely (from a distance), and live boldly (until someone starts vacuuming). Sage life lessons include:
Be especially attentive to the one person who doesn't like you.
Get away with murder by looking cute.
Ignore anyone who doesn't worship you.
Be pleased with your achievements, however small.
The best solution to a problem is a nap.
Live 
better
—live like your cat!