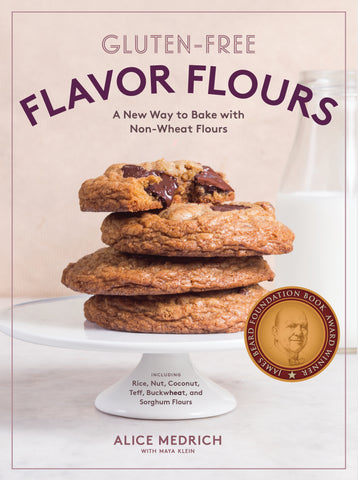 Gluten-Free Flavor Flours
The James Beard Award–winning gluten-free cookbook, now in paperback!

Baking with flavor flours—oat flour, sorghum flour, teff, coconut flour, and nut flours, like almond and hazelnut—adds a new dimension to dessert recipes. Rather than simply adding starch and structure to a dessert (as is the case with wheat flour), these flours elevate the taste of the dessert as well. The recipes incorporate the most popular alternative flours available on the market today and use them in interesting ways, both alone and in combination. Gluten-free bakers will find a whole new range of baking options at their fingertips. Chapters are organized by flour, each one highlighting the best recipes that flour can be used for—be it muffins, tarts, and scones made with sorghum flour; cakes, cookies, and crumbles made with oat flour; or chocolatey desserts made with teff. The chapter opener text highlights useful information for each flour: the taste, its flavor affinities, and how it's best used, stored, and more. With 125 accessible and delicious recipes, including Double Oat Cookies, Buckwheat Gingerbread, Chocolate Chestnut Soufflé Cake, Blueberry Corn Flour Cobbler, and Coconut Key Lime Tart, living gluten-free has never been tastier.