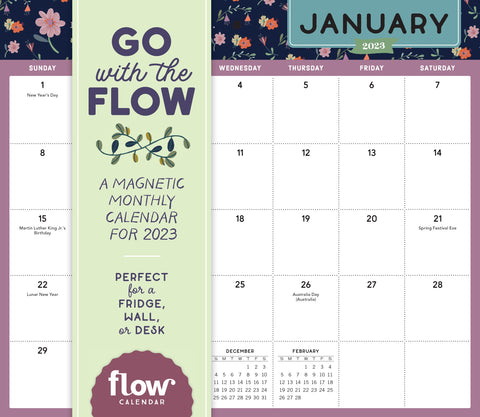 Go with the Flow: A Magnetic Monthly Wall Calendar 2023
Inspiring and delightful with every glance!

Go with the Flow, combines whimsical illustrations, a hardworking format that keeps you organized and on track throughout the year, and words to uplift and motivate: from Reflect the season's mood; find fresh perspectives to How free it can feel to just see what happens. The calendar is designed for compact spaces like lockers, refrigerators, and cubicles, and the magnetic backer makes it easy to hang. Plus the pages are tear-off, so just remove them at the end of each month. It's a gift of beauty and mindfulness, for yourself or a friend. Printed on uncoated, responsibly sourced paper.