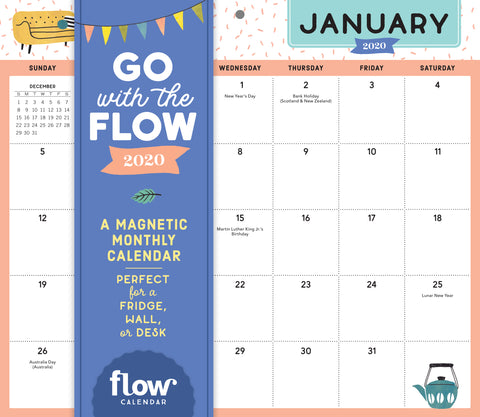 Go with the Flow Desk Calendar 2020
Practical organization meets calming ease and mindfulness.

Go with the Flow: A Magnetic Monthly Calendar is ideal for chronicling anything from big plans to budding ideas. The compact 9 ½" × 8 ½" padded monthly calendar features 12 clean, spacious spreads, with plenty of room to make note of events, lists, and reminders—so you can let your mind wander to more fun things—plus stylish and charming illustrations. On every page, upbeat affirmations put your mind at ease: There are some things that will always be imperfect. Designed with Flow's unique sensibility for finding beauty in simplicity, every page features charming illustrations—of porch swings, of gorgeous plants in ceramic planters—and wallpaper-inspired backgrounds that infuse the month with brightness. With a magnetic back, it's perfect for the fridge, desk, or wall.

From the editors of Flow magazine, which celebrates creativity, mindfulness, and life's small pleasures.