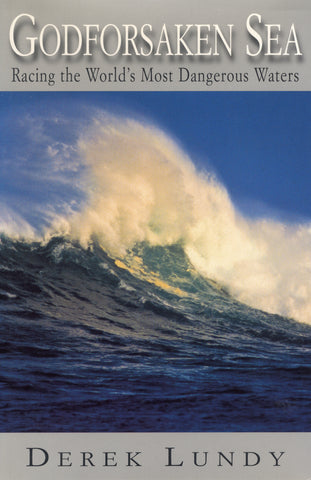 Godforsaken Sea
Godforsaken Sea is the hair-raising account of the world's most demanding, dangerous, and deadly sailing race. Around the world, one sailor, one boat, no stops, no assistance.
Author Derek Lundy's vivid book follows the field of the 1996 - 1997 Vendee Globe through the race's grueling four-month circumnavigation of the globe, most of it through the terror of the Southern Ocean.
Lundy narrates the race through the eyes and experiences of sixteen sailors - fourteen men and two women - who embdoy the best and most eccentric aspects of our human condition. There's the gallant Brit who spends days beating back against the worst seas to save a fellow sailor; the Frenchman who bothers to salvage only a bottle of champagne from his broken and sinking boat; the sailor who comes to love the albatross that trails her for months, naming it Bernard; the sailor who calmly smokes a cigarette as his boat capsizes; and the Canadian who, hours before he disappears forever, dispatches this message:
If you drag things out too long here, you're sure to come to grief.
With the literary touch of Saint-Exupery and Conrad, Derek Lundy harnesses hurricane-force winds, six story waves, icebergs, and deafening noise. And he lays bare the spirit of the men and women who push themselves to the outer limits of human endeavor - even if it means never returning home.