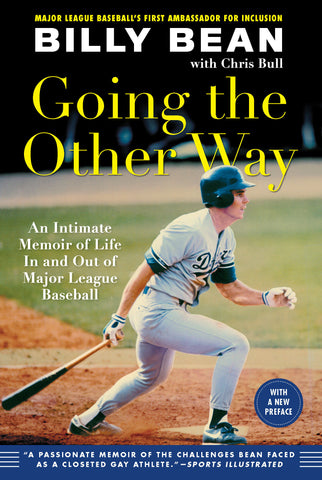 Going the Other Way
From major league baseball's only openly gay former player—and now its first-ever Ambassador for Inclusion—the intimate chronicle of a man who, in the prime of his career, had to make a terrible choice between his love of the game and the love of his life
More than ten years after its original publication, Going the Other Way remains deeply moving, and more timely than ever.

By virtue of a relentless work ethic, exceptional multi-sport talent, and a quick left-handed swing, Billy Bean made it to the majors, where he played from 1987 to 1995—an outfielder for the Detroit Tigers, Los Angeles Dodgers, and San Diego Padres. But as a gay man in the brutally anti-gay world of baseball, closeted to teammates and family, Bean found himself unable to reconcile two worlds that he felt to be mutually exclusive. At the young age of 31, in the prime of his career, even as he solidified his role as a major-league utility player, Bean walked away from the game that was both his calling and his livelihood.

At once heartbreaking and farcical, ruminative and uncensored, this unprecedented memoir points the way toward a more perfect game, one in which all players can pursue their athletic dreams free of prejudice and discrimination.