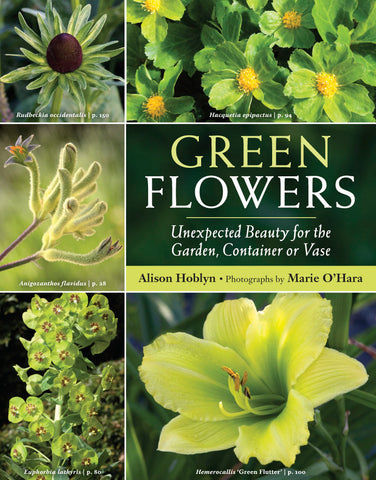 Green Flowers
Green in the garden is at once the most common color of foliage and the rarest color found in flowers. Whether you're a home gardener looking for a jolt of freshness or a floral designer seeking inspiration, this charming collection of unexpected
plants provides a palette of flowering greens for year-round display.

Combining Marie O'Hara's sumptuous photography and Alison Hoblyn's evocative text, Green Flowers explores the history, botany, care, and cultivation of green-flowered plants. The hand-picked selection includes trees, grasses, vines and climbers, annuals, perennials, bulbs, wildflowers, exotics, orchids, edible plants, and water garden plants. The appeal of the selection is broad: Jack-in-the-pulpit provides curiosity; fritillaries and columbines lend quiet beauty; and green roses, hellebores, and irises are an excellent foil to their more colorful companions. Eighty-four plants are included in all. Complete tips on growing and arranging the plants are given for each entry, as well as an account of the interesting myths, history, and lore.