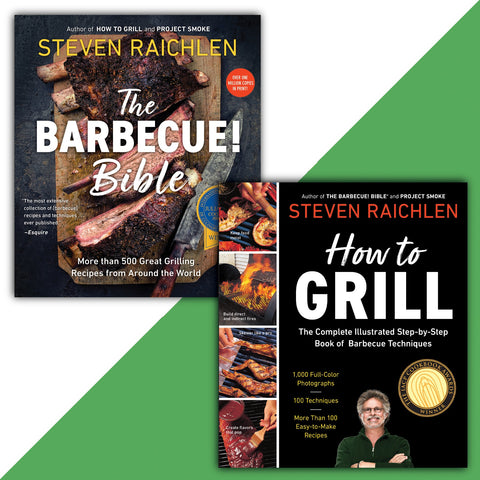 Grilling Basics Set
A Celebration of All Things Grilled. Website Exclusive 2-Book Set.
 
A salute to sizzle and smoke, author Steven Raichlen, shares his techniques for live-fire cooking. This set includes:

How to Grill, the holy grail that covers it all gets to the core of the grilling experience by showing and telling exactly how it's done. From how to build an ingenious three-zone fire to the secrets of grilling a porterhouse, prime rib, fish steak, kebab, or chicken breast. There are techniques for smoking ribs, cooking the perfect burger, rotisserieing a whole chicken, barbecuing a fish; for grilling pizza, shellfish, vegetables, tofu, fruit, and s'mores.

The Barbecue! Bible unlocks the secrets of live-fire cooking with top dishes, the tastiest sauces, and insider techniques and tips. It's got everything: how to grill the perfect T-bone. Succulent chicken from around the world: Jamaica, Senegal, Brazil, India, Thailand, Uruguay. A perfect meeting of fire and ice: Fire-Roasted Banana Splits. Includes FAQs, problem-solving tips, and comprehensive notes on equipment, ingredients, marinades, rubs—even a chapter on thirst-quenchers to serve while you're busy fanning the coals.