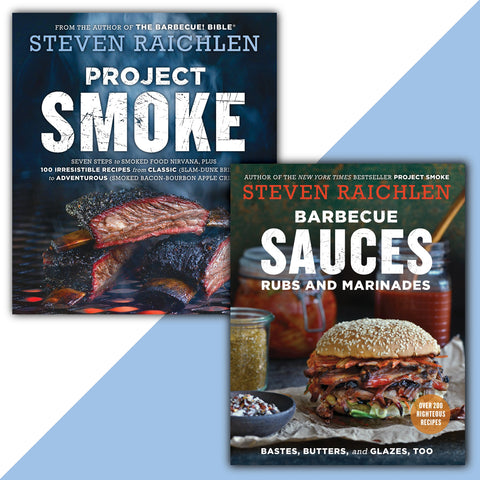 Grillmaster Set
Website Exclusive 2-Book Set.

Steven Raichlen, the founder and dean of Barbecue University, is sharing all his renowned secrets, on how to perfectly barbeque. This set includes:

Project Smoke, a complete, step-by-step guide to mastering the art and craft of smoking, plus 100 recipes—every one a game-changer—for smoked food that roars off your plate with flavor. How to choose the right smoker (or turn the grill you have into an effective smoking machine). Understand the different tools, fuels, and smoking woods. Master all the essential techniques: hot-smoking, cold-smoking, rotisserie-smoking, even smoking with tea and hay.
 
Barbecue Sauces, Rubs, and Marinades--Bastes, Butters & Glazes, Too, transforms meats, seafood, vegetables, and desserts into world-class barbecue with the flavor foundations, wet and dry, that give grilled food its character, personality, depth, and soul. Chile-fired rubs, citrusy marinades, buttery bastes, pack-a-wallop sauces, plus mops. slaters, sambals, and chutneys—this cornucopia of more than 200 recipes draws on irresistible Thai, Mexican, Indian, Cajun, Jamaican, Italian, and French cuisines, plus those big flavor building blocks from America's barbecue belt. Includes a step-by-step guide to building a signature barbecue sauce and recipes for more than 30 outrageous main dishes.