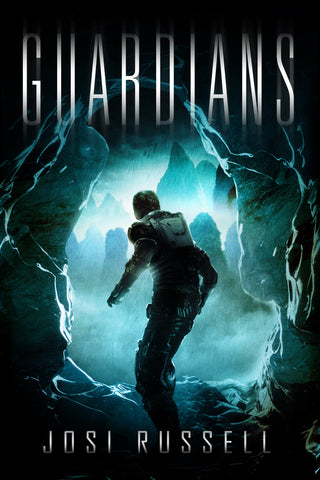 Guardians
2 time Whitney Award Finalist Josi Russell returns with Guardians, the sequel to her #1 Bestselling science fiction space opera, Caretaker.

Trapped on a hostile planet.

Life on Minea isn't all that the shiny brochures back on Earth promised the passengers of Ship 12-22. In order to survive, most of the population must slave away in the dark, unforgiving caverns of the Yyinum mines. 

Ethan's position as governor proves to be less effective than he hoped as he clashes with the power-hungry companies that control the planet. While on a surveying ship, Ethan and the crew crash-land into the cavernous depths beneath the Karst Mountains, where a maze of tunnels and slew of fatal dangers block their journey home.

Above ground, a deadly epidemic sweeps the planet, and Ethan's wife, Aria, is torn between searching the mountains for him and finding a cure. When a mysterious craft appears in the sky, Kaia and her father, Admiral Phillip Reagan, must prepare for a battle with a species they know nothing about.

As their world descends into chaos, can these self-appointed guardians bring hope of survival to Minea?