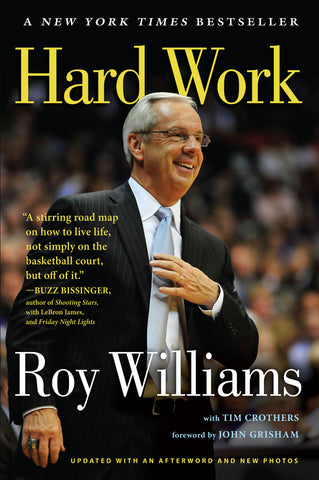 Hard Work
"A star coach tells his inspiring tale . . . by the end of this engaging tale, you'll realize why Williams is an unparalleled recruiter . . . He works as hard as anyone, and he knows how to tell a good story." —Sports Illustrated

Coach Roy Williams is one of the most respected and successful basketball coaches in the nation; he has led the UNC team for the past 18 seasons, with 903 career wins, three national championships, led his team to five Final Fours, finished first in the ACC regular standings nine times, and won three ACC tournament championships. 
 
And yet, Williams traveled an unlikely path. In Hard Work¸ he tells the story of his life, from his turbulent childhood through a coaching career with the highest of highs and the lowest of lows. Williams recounts his rough early years; his long tenure as head coach at the University of Kansas; how he recruits, teaches, and motivates his players; how he's shepherded teams through some of the most nail-biting games at both Kansas and UNC; and how he suffered through one of the roughest seasons of his tenure and came out on the other side to be awarded 2011 ACC Coach of the Year.
 
One of the most accomplished basketball coaches of all time, Williams was inducted into the Naismith Hall of Fame.