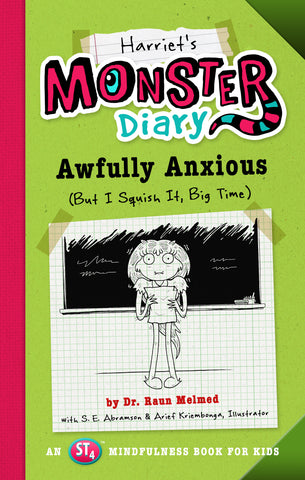 Harriet's Monster Diary
Meet Harriet, a lovable monster who is just sick at the thought of giving a report in front of her class! Her heart pounds, her chest gets tight, and her stomach twists in painful knots. She can't even bear to get started on it! What is she going to do?
In the same humorous spirit of Diary of a Wimpy Kid comes Harriet's Monster Diary: Awful Anxiety (But I Squish It, Big Time). Using the "furmometer" and ST4 techniques developed by Dr. Raun Melmed of the Melmed Center in Arizona, Harriet's Monster Diary teaches kids how to monitor how they feel and respond to stressful situations. Harriet's hilarious doodles and diary entries chronicle her delightful adventures, misadventures, and eventual triumph in a funny, relatable way. It's the one book that stressed kids will want to calm down to read!
Harriet's Monster Diary also includes a resource section to help parents and teachers implement Dr. Melmed's methods, plus ST4 reminders that kids can remove, color, and place around the house.