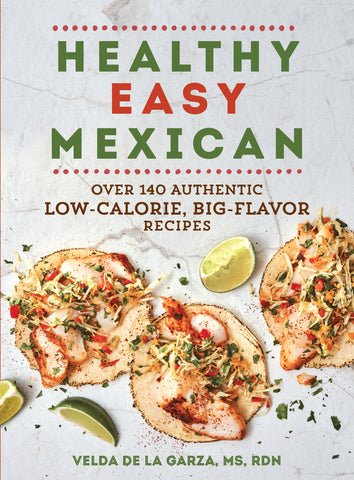 Healthy Easy Mexican
Unlock all the health benefits—and all the flavor—of Mexican cuisine, with this lighter take on traditional favorites!
Traditional Mexican ingredients aren't just delicious; they're good for you, too: Avocados are a superfood, and so are beans and lentils. Corn is a fiber powerhouse—and what is salsa if not a fresh vegetable sauce?
In
Healthy Easy Mexican
, Velda de la Garza reintroduces this craveable cuisine with 140 new, lighter recipes her abuelita would approve of. From chalupas to enchiladas and nachos to tacos, she elevates whole produce and lean meats to fiesta-worthy fare with generous helpings of herbs and spices (also good for you)! Here are can't-miss classics (like tamales, which date back to the Aztecs), Latin Caribbean–Mexican fusions (Slow Cooker Pork Pernil Tacos!), and Tex-Mex traditions, like the Cowboy Bread recipe passed down by Velda's grandfather.
Quick preparations with short ingredient lists will have you eating in no time, while nutrient information for every recipe steers you right. This is
Healthy Easy Mexican. ¡Buen provecho!
Flavorful fresh salsas and dips: Guacamole with Toasted Cumin
Protein-packed meat and fish dishes: Steak Tacos with Tomatillo Sauce
Filling vegetarian favorites: Mushroom and Cheese Enchiladas
Plus hearty salads, rice and beans, soups, breads, desserts, and more!