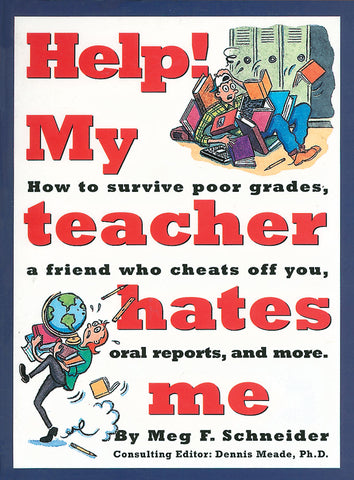 Help! My Teacher Hates Me
An indispensable survival guide and source of support, Help! My Teacher Hates Me! provides solutions and strategies for dealing with the problems and issues every student confronts in school.

Taking a sensitive, kid-friendly, but no-nonsense approach, the book tackles an array of common and not-so-common problems, from teacher predicaments and report-card troubles to dealing with a fellow student with AIDS. It addresses tensions between friends, the great cheating dilemma, homework, family attention, sports and other extracurricular activities, and actual physical fears.

The author, who specializes in helping teenagers explore sensitive and emotional issues, is a writer with a master's degree in counseling psychology. In this book, she is as accessible as a private counselor, ever willing to listen and ever knowledgeable in what to do. Whether the problem is small or large, she carefully outlines all the steps that should be taken to address it. It may feel like the end of the world, but it's not-HELP! has arrived. Selection of the Scholastic Book Clubs. Suitable for ages 9-14.