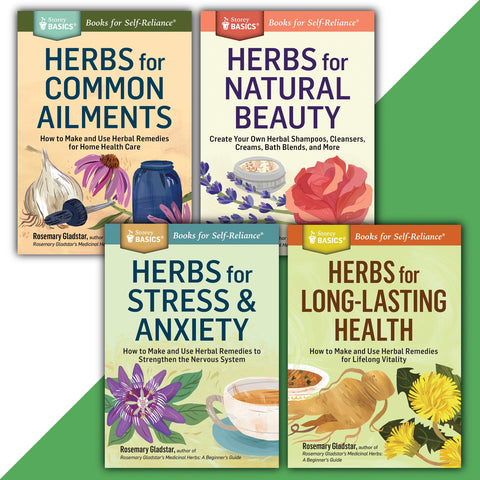 Herbal Healing Library

Rosemary Gladstar shows you how to enhance your well-being in middle age and beyond using herbal remedies that effectively and safely promote vitality. With in-depth profiles of 22 medicinal herbs, preparation instructions, and dosage guidelines, you'll discover how you can use astragalus to regenerate your body's immune system, bilberry to ease eye problems, and milk thistle to rebuild damaged liver cells. You'll be amazed at how herbal treatments can help support your nervous system, activate your metabolism, and keep your bones and joints healthy.
 

In this Storey BASICS® guide, best-selling author and master herbalist Rosemary Gladstar shows you how to use 56 common herbs to safely address a wide range of everyday ailments. Covering everything from burns, wounds, and bruises to headaches, congestion, and insomnia, Gladstar offers dozens of easy-to-make recipes for herbal remedies that will soothe your woes without the harsh ingredients found in commercial pharmaceuticals. Keep your family happy, healthy, and safe with the natural healing power of herbs.
 

Look great, smell wonderful, and feel good as you make your own homemade natural body care products. In this Storey BASICS® guide to holistic beauty, Rosemary Gladstar shares more than 30 simple recipes for cleansers, moisturizers, and creams comprised of essential oils and herbs. Make unique shampoos for lustrous, fragrant hair and learn Gladstar's amazing five-step system for glowing skin. Skip the harsh commercial ingredients and use nature's closet to keep your body healthy and beautiful. 
 

Treat stress, anxiety, depression, and more with simple herbal remedies that calm your mind, build a healthy nervous system, and promote lasting peace. In this informative guide, renowned herbalist Rosemary Gladstar profiles 21 herbs proven to be effective at soothing common ailments like insomnia, panic attacks, skin conditions, and migraines. With simple directions for making herbal mixtures that can be used in delicious teas, tinctures, and capsules, Gladstar shows you how to harness the power of nature to achieve a more relaxed and fulfilling life.