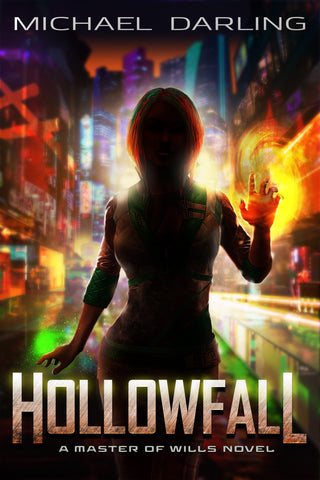 Hollowfall
Sadia has been betrayed.

Get in. Get the data threads. Get out. It's a standard job. But when Sadia arrives, she finds her contact dead and the only ones who could be responsible are from her own faction. Unable to trust anyone, she goes looking for answers. 

When she witnesses another unjust death, something inside her awakens. A power takes control of her body and in front of millions of witnesses, Sadia brings the dead man back to life. Suddenly, she's the most sought after woman in Novus City. And while some factions want to make her a martyr, others want to dissect her. Or worse. 

Hunted by every faction, every corporation, and every authority, Sadia flees. If she can escape the city, she may survive long enough to learn the secrets of her past. If she fails, instead of giving life back, her power will be used to take it away. She will become the instrument of annihilation, and no one will be left alive to remember Hollowfall.