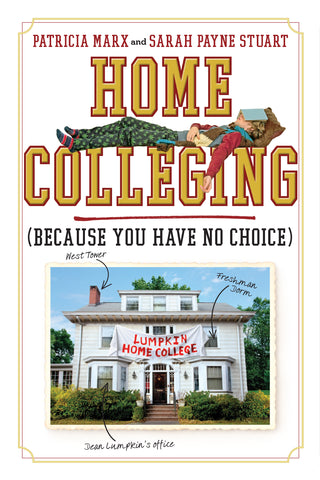 Home Colleging
Welcome to Lumpkin Home College! Why Lumpkin, you ask? Because, Bradley H. Lumpkin, you took Ceramics instead of Physics. Because "Pot Is My Passion" wasn't a smart topic for your college application essay. Because of that thing with the police. Because, honey, you have no choice.

Home Colleging is the perfect book for any parent who has ever completed the grueling marathon of getting a child into college—and for every kid who survived the process. Written by two Harvard Lampoon alumnae and coauthors of How to Regain Your Virginity, and illustrated throughout, this hilarious spoof revolves around Mrs. Lumpkin's plan to home-college her loser son, Bradley. The satire is spot-on: There's the Campus: Situated on a sweeping quarter acre in a center-hall Colonial that could use some paint . . . The Mission Statement: We're just trying to make the best of a bad situation. The Course Catalog: Archaeology 206: Includes a field trip to Bradley H. Lumpkin's bed, where we will excavate for pizza crusts and coinage, as well as cell phones dating back to the early paleo-iPhone era.

Plus Student Clubs (A Cappella in the Shower), Greek Life (Feta Cheese Thursdays), Athletics—the court-ordered weekly trip to pick up litter along exits 37 to 39. But do take note: Lumpkin does not have a liquor license.