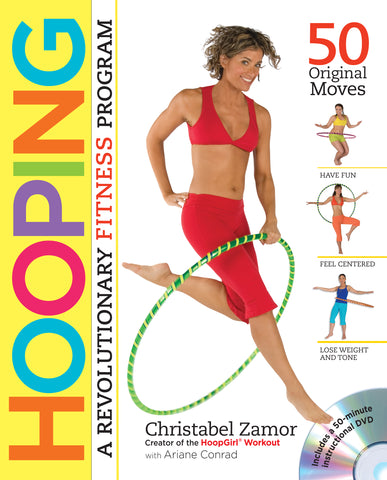 Hooping
Imagine an exercise that works every major and minor muscle group, burns 600 calories an hour, builds balance and flexibility, requires no investment beyond $25 to $35, and makes you feel exuberant, delightful, sassy, and sexy. And is so much more like play than work that you want to keep doing it.

That's right, what goes around comes around—the Hula-Hoop, which burst into fad-dom fifty years ago, is hot all over again, but this time for enormously beneficial reasons. Christabel Zamor, credited with reviving the Hula-Hoop with her HoopGirl Workout, is leading what Time magazine calls "the inventive new wave of fitness...that is catching on in health clubs across America." Hooping brings the best of HoopGirl into a full-color, fully illustrated book plus a 40-minute instructional DVD. Here's how to get started—where to find and how to use the larger, heavier "sticky" hoops; stretches and warm-ups; and what to wear. And then more than 50 step-by-step exercises that focus on the core (abs, back, butt), upper body, lower body, and overall well-being. The exercises are as fun as they sound—Limbo, Booty Blitz, Float Up, Wildwest—and each group comes with a recommended playlist of music, plus "challenges" for going further.

Hooping!: it's not just fitness, but metamorphosis, into a renewed you, with a strong core, joyful attitude, and a glow of self-confidence.