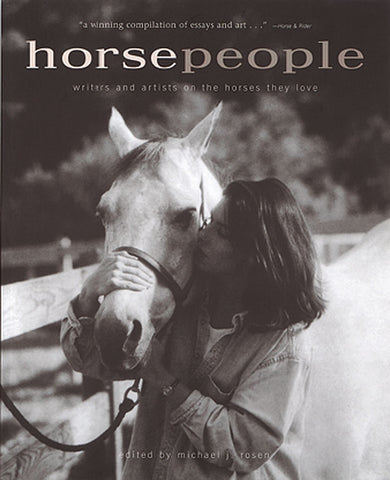 Horse People
"Deeply I sat, fixed to the slap, slap, slap of her trot, and the counterpoint thud-plod, thud-plod of her heart, enchanted by a soft percussion I felt part of, floating above the syncopated rhythm like a melody."
--Diane Ackerman, recalling her beloved Appaloosa mare
Horses have inspired devotion, awe, and love in their human companions for millennia; in Horse People more than forty acclaimed writers and artists share their own passion for these magical, mythical animals.
Horse People includes deeply moving reminiscences and stories as varied as Jane Smiley's memories of her return to riding and Rita Mae Brown's straight-from-the-horse's-mouth tale "told" by her horse, Peggy Sue Brown. A wide range of artistic mediums are represented as well: Painter Jamie Wyeth evokes dreamlike memories of a rural past; photographer John Derryberry captures the untamed beauty of wild stallions in Kashmir.
Read this moving anthology and "you too will yearn to connect--or reconnect--with horses" (Town & Country).