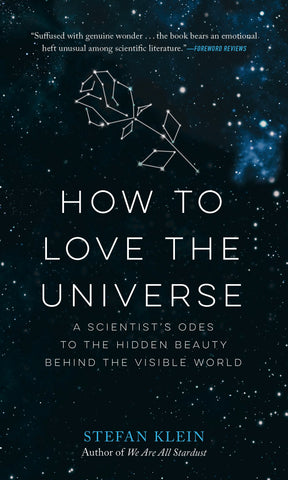 How to Love the Universe
An eye-opening celebration of the marvels of space, time, the cosmos, and more

How to Love the Universe is a new kind of science writing by an author truly enamored of the world around him. In ten short chapters of lyrical prose—each one an ode to a breathtaking realm of discovery—Stefan Klein uses everyday objects and events as a springboard to meditate on the beauty of the underlying science.

Klein sees in a single rose the sublime interdependence of all life; a day of stormy weather points to the world's unpredictability; a marble conjures the birth of the cosmos. As he contemplates the deepest mysteries—the nature of reality, dark matter, humanity's place among the galaxies, and more—Klein encourages us to fall in love with the universe the way scientists do: with a grasp of the key ideas and theories of twenty-first-century physics that bring to life the wonders of, really, everything.

You won't look at a rose—or at our world—the same way again.