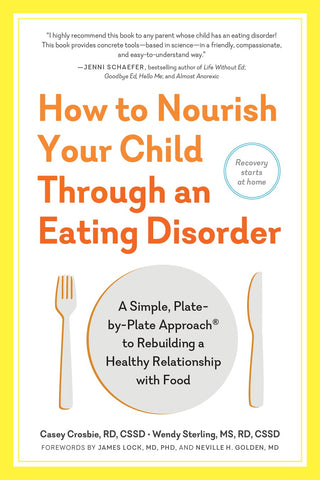 How to Nourish Your Child Through an Eating Disorder
A revolutionary, entirely visual approach to helping your child overcome their eating disorder (ED) and eat normally again that does away with counting calories and measuring food—rooted in the leading evidence-based approach: Family-Based Therapy (FBT)

Parents are the first to know when their child starts behaving differently. Has your son stopped eating his favorite food, or does he refuse to eat out with friends? Has your daughter drastically increased her exercise regimen, or become obsessed with health foods? These are among the telltale signs that your child, like millions of others, may have an eating disorder (ED).

In this essential guide, registered dietitians Casey Crosbie and Wendy Sterling introduce an all-new strategy you can use to help your child at home. The Plate-by-Plate approach is rooted in family-based treatment (FBT)—the leading psychological therapy for EDs. Unlike complicated "exchange" systems, this is simple: Crosbie and Sterling coach you through every aspect of meeting your child's nutritional needs, using just one tool—a ten-inch plate.

Paired with therapy, this intuitive, visual method is the best way to support your child on the path to recovery. Plus, the authors cover how to talk about diet and weight, what to do while traveling, what to expect from your child's doctor, and much more.