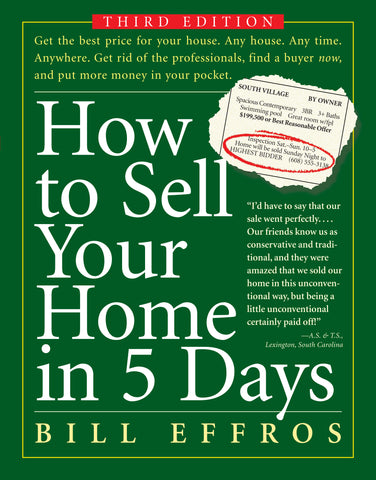 How to Sell Your Home in 5 Days
The proof is in the testimonials that have arrived by the thousands: "This is a really great book. It's simple. It's straightforward. We read it. We ran our ad. We got over 100 telephone calls. We sold our home."—John Henke, Boise, ID. "Our real estate broker was green with envy. In 5 days we got 24 bids higher than the highest bid she got us in 11 1/2 years. You're our hero!"—Elizabeth & Tim Hunter, South Berwick, ME. "I had a business opportunity I couldn't take advantage of unless I sold my home immediately. I saw your book in a bookstore and sold my home the next weekend. Thanks!"—Doug Walker, Salt Lake City, UT. "Thanks to your system I sold my home in 5 days at $1.26 million. You saved me $78,000 in real estate commission!"—V., Potomac, MD.

Now in its third edition and timed perfectly to address a challenging real estate market, How to Sell Your Home in 5 Days turns the conventional on its head to present an innovative, practical, and foolproof alternative that makes the market work for you, the seller. Based on the one basic truth of free enterprise—that your home is worth exactly what the highest bidder will pay for it— this step-by-step plan shows exactly how to price your home attractively; make a timetable; write an effective ad; use buyer psychology, price points, and magic numbers to get the best price; and conduct round-robin bidding. It includes new information on the Internet—including a supporting website, www.5-day.com—the most recent testimonials, and updates to every phase of the process, from whether or not to renovate a kitchen before selling to the ins and outs of transferring ownership. Homes sold through the five-day plan sell for an average of 5% more than through conventional sales, plus, the seller doesn't have to pay a broker's fee—making this book among the best deals of the century.