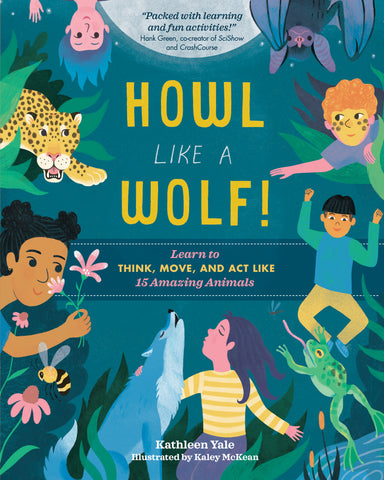 Howl like a Wolf!
2018 INDIES Winner Gold, Juvenile Nonfiction (Children's)
Gold Mom's Choice Award Winner
2019 National Parenting Product Awards Winner
Creative Child Magazine Book of the Year Award Winner
Honor Book for the 2018 Montana Book Awards
Nautilus Book Awards Gold Winner

What does it feel like to "see" with your ears like a bat or go through a full body transformation like a frog? Can you wriggle in and out of tight places like an octopus, camouflage yourself like a leopard, or do a waggle dance like a honeybee? This creative and beautifully illustrated interactive guide makes learning about animals fun for children ages 6 and up. Fifteen animals explain their amazing feats and invite kids to enter their world by mimicking their behavior — an imaginative approach to learning that fosters curiosity, empathy, and dramatic play.