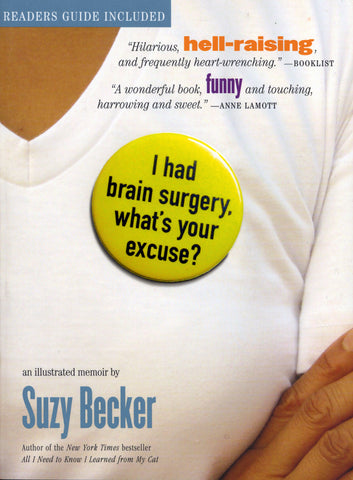 I Had Brain Surgery, What's Your Excuse?
Now in paperback, the ingenious illustrated memoir that is widely praised:

"Hilarious, hell-raising, and frequently heart-wrenching." —Booklist

"[A] unique tragicomedy of a memoir . . . The author is so likable, even in her darkest hour, that as you applaud her recovery you also realize you'll miss looking after her." —Entertainment Weekly ("A" rating)

"Compelling reading . . . Becker has turned one person's experience into a universal story of family, healing, and the return to creativity." —Library Journal (starred review)

"A wonderful book, funny and touching, harrowing and sweet." —Anne Lamott, author of Bird by Bird

For years Suzy Becker, author of the New York Times bestseller All I Need to Know I Learned from My Cat (1.7 million copies in print), literally lived by her wits. Then brain surgery left her temporarily unable to speak, read, or write. I Had Brain Surgery, What's Your Excuse? is a story that grapples with the question "What makes me me?" By turns philosophical and whimsical, rivetingly dramatic and unexpectedly light, it is illustrated with drawings, charts, pseudoserious graphs, real EEGs. The result is a book filled with insights into creativity, identity, love, relationships, family, and that intangible something that gives each of us our spark.