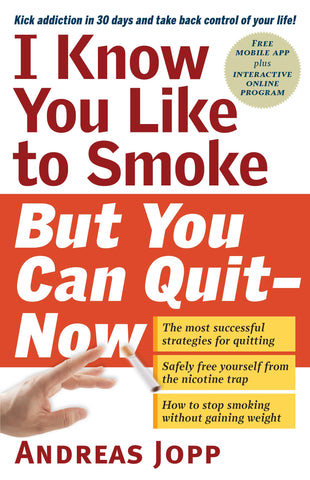 I Know You Like to Smoke, But You Can Quit—Now
You Really Can Quit –Now. 

Of course you like smoking—otherwise, it wouldn't be so hard to quit. Only when you truly understand why you smoke is it possible to stop smoking without feeling like you're giving up something.
"Every smoker has his or her own personal beliefs, fears, and questions about quitting. This book will support you in every aspect, every step of the way. I don't expect that every reader has already decided to quit smoking. This decision happens when questions are answered and fears are alleviated, and that's what this program is designed to do," says author Andreas Jopp.
For those who are ready to quit, or ready at least to consider it, here is a modern handbook with a fresh approach. Gone are the days of quitting by willpower alone! Using the latest findings in addiction research, Jopp explains the thought patterns that keep millions from trying to quit—and details the most successful strategies for quitting.
Divided into 30 chapters (which can be read one per day leading up to quitting day, or at the reader's own pace), the book presents an appealing mix of evidence-based research and insight and guidance informed by Jopp's experiences as both an ex-smoker and a health coach who has already helped many thousands of smokers to stop smoking. Jopp never loses sight of what is most important for smokers to understand: exactly how nicotine induces both physical and psychological dependence—and by knowing all this, how to break free.
Andreas Jopp's comprehensive approach and straightforward guidance will help anyone kick the habit for good!