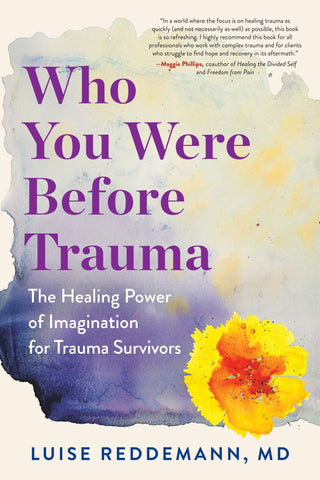 Who You Were Before Trauma
Introducing a proven, pioneering program that empowers trauma survivors to take control of their recovery through imaginative exercises
Over the last thirty-five years, our understanding of trauma has dramatically changed. We now know that most people live through at least one traumatic event—which can cause disorders that range from depression, addiction, and anxiety, to cardiovascular disease and diabetes. But when leading German psychotherapist Luise Reddemann became head of a psychosomatic clinic in 1985, many doctors were routinely dismissive of patients' trauma.
Dr. Reddemann has devoted her career to this question: How can survivors of complex trauma and PTSD heal—and even help themselves to heal? In
Who You Were Before Trauma,
she presents her groundbreaking method, along with positive therapeutic strategies, to therapists and patients alike. Psychodynamic Imaginative Trauma Therapy (PITT) incorporates imagination work at every stage of the three-phase trauma therapy model:
Establish safety and stabilization
Come to terms with traumatic memories
Integrate and reconnect with others.
By guiding patients to unearth their buried strengths, envision an inner refuge, evoke helpful guiding figures, and ultimately build an "internal counterweight" to their trauma, Reddemann's approach avoids the counterproductive dynamic where the therapist becomes the patient's only source of comfort. This definitive trauma resource shows the way to empower survivors—by making them true partners in their recovery.