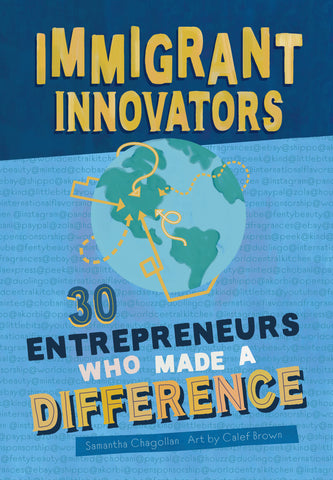 Immigrant Innovators: 30 Entrepreneurs Who Made a Difference
An inspiring children's biography collection, 
Immigrant Innovators
highlights the stories of 30 immigrant entrepreneurs who have made it big in America.
Geared toward readers ages 8–12, the book features people from around the world who played a major role in establishing global companies and products. These entrepreneurs come from more than 25 countries and have been successful in a wide range of fields, from energy bars (KIND), yogurt (Chobani), and restaurant chains (Panda Express), to dominant industry players like YouTube and Tesla. The book includes full-page illustrated portraits of each entrepreneur as well as colorful infographics throughout.
Immigrant Innovators 
is a celebration of the immigrant experience—both the triumphs and the challenges—and an important reminder of the strength that comes from a broad and diverse population.
Included, among others, are:
Ayah Bdeir, Lebanon, littleBits
Rihanna, Barbados, Fenty Beauty
Marcus Samuelsson, Ethiopia, Chef
Hamdi Ulukaya, Turkey, Chobani
Max Levchin, Ukraine, PayPal
Mike Krieger, Brazil, Instagram                  
Daniel Lubetzky, Mexico, KIND Snacks
Adi Tatarko and Alon Cohen, Israel, Houzz
Luis von Ahn, Guatemala, Duolingo
Pierre Omidyar, France, eBay
Laura Behrens Wu, Germany, Shippo 
José Andrés, Spain, Founder of World Central Kitchen
Also includes infographics like:
Pioneering Entrepreneurs
Kids of Immigrants
Immigrant Entrepreneurs: By the Numbers
What Kind of Entrepreneur Are You?