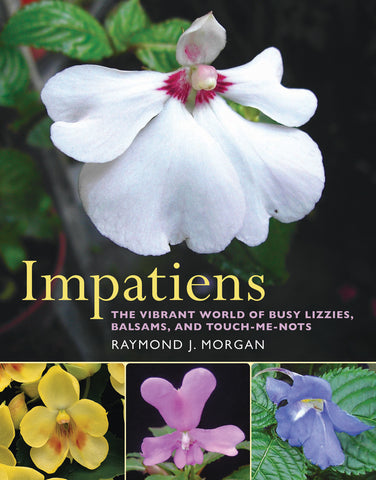 Impatiens
Many gardeners know of Impatiens walleriana, the species that lies behind the myriad colorful garden varieties that brighten up containers, window boxes, and shady spots throughout the world. The genus Impatiens is enormous, comprising over a thousand species—many of which, although highly desirable, remain lilttle known to Western gardeners.
Raymond Morgan first examines Impatiens through a botanical lens, describing their physiology, morphology, and seed dispersal mechanisms. He then recounts Victorian-era plant-hunting forays into the Himalayas and notes how modern-day expeditions, with due concern to conservation, continue to bring back species that will eventually find their way into nursery catalogs and gardens.
Perhaps most excitingly, the author describes over 200 species ranging from Madagascar, Sri Lanka, and the Himalayas to New Guinea. Along the way the reader is acquainted with remarkable species, including the giant African Impatiens tinctoria, which grows to 6 feet tall, and Tibet's ultramarine I. nanchabarwensis, which grows in the deepest canyon on earth.
The genus Impatiens contains a wealth of untapped treasures for gardeners. With wonderful photographs complementing the detailed plant descriptions, this book is essential reading for curious-minded gardeners keen to unearth this fascinating and largely unexplored genus.