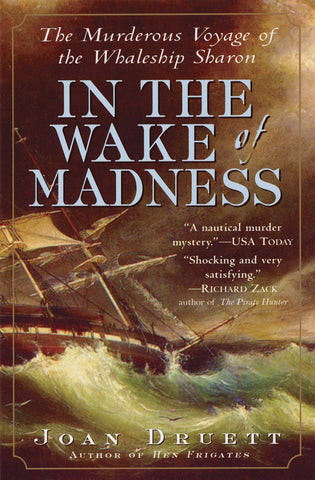 In the Wake of Madness
After more than a century of silence, the true story of one of history's most notorious mutinies is revealed in Joan Druett's riveting "nautical murder mystery" (USA Today). On May 25, 1841, the Massachusetts whaleship Sharon set out for the whaling ground of the northwestern Pacific. A year later, while most of the crew was out hunting, Captain Howes Norris was brutally murdered. When the men in the whaleboats returned, they found four crew members on board, three of whom were covered in blood, the other screaming from atop the mast. Single-handedly, the third officer launched a surprise attack to recapture the Sharon, killing two of the attackers and subduing the other. An American investigation into the murder was never conducted--even when the Sharon returned home three years later, with only four of the original twenty-nine crew on board.

Joan Druett, a historian who's been called a female Patrick O'Brian by the Wall Street Journal, dramatically re-creates the mystery of the ill-fated whaleship and reveals a voyage filled with savagery under the command of one of the most ruthless captains to sail the high seas.